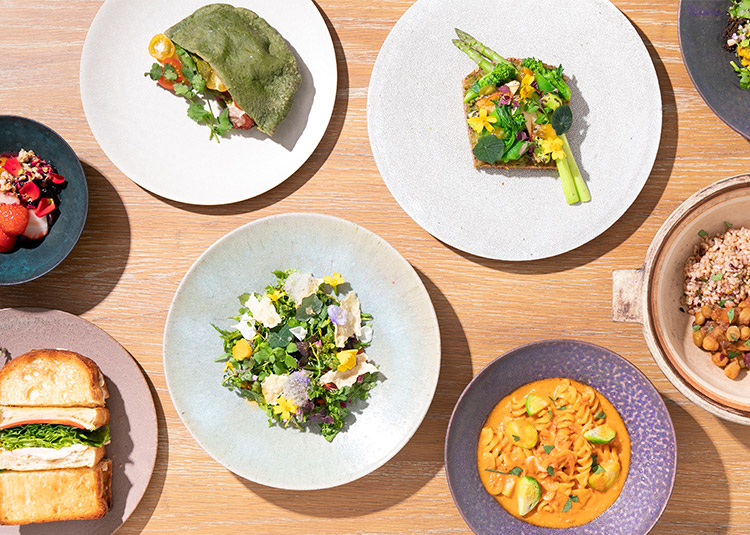 We want our customers to relax with the image of taking a deep breath in the forest.
Hyssop is named after the name of herb and is a plant that has the meaning of purification.
At lunch, you can enjoy a set menu, and at night you can enjoy botanical mocktails (alcohol also available) along with dishes and snacks that use plenty of herbs.
We provide a menu that is kind to your body and mind, so that you can feel the nature and taste the essence of plants.
Access
Shijo Kawaramachi Go down the intersection to the south and you will see a pedestrian crossing, and the building on the right is GOOD NATURE STATION.
To go to Hyssop, go through the HOTEL entrance on the left-hand side in front of the building.
There is a long and narrow passage like the alley of Kyomachiya, so please go deep.
The elevator will be on your left, so go up to the 4th floor.
When you reach the 4th floor, the lobby spreads out and you can see the entrance to Hyssop and the open courtyard with terrace seats on your left.
At Kyoto, there is a courtyard where you can feel the breath of nature, quietly standing in the city. Hyssop Please relax your mind and body slowly.
Why do not you increase the time of herbs in your life?
Hyssop is a place where you can have a good time chatting with friends and family, a sweet time with your lover, or even a single person with a healing time.
Lunch, dinner, and BAR are available for various uses depending on time. I want to be a place where you can relax while feeling the blessings of nature in the city. Please feel free to drop in anytime.