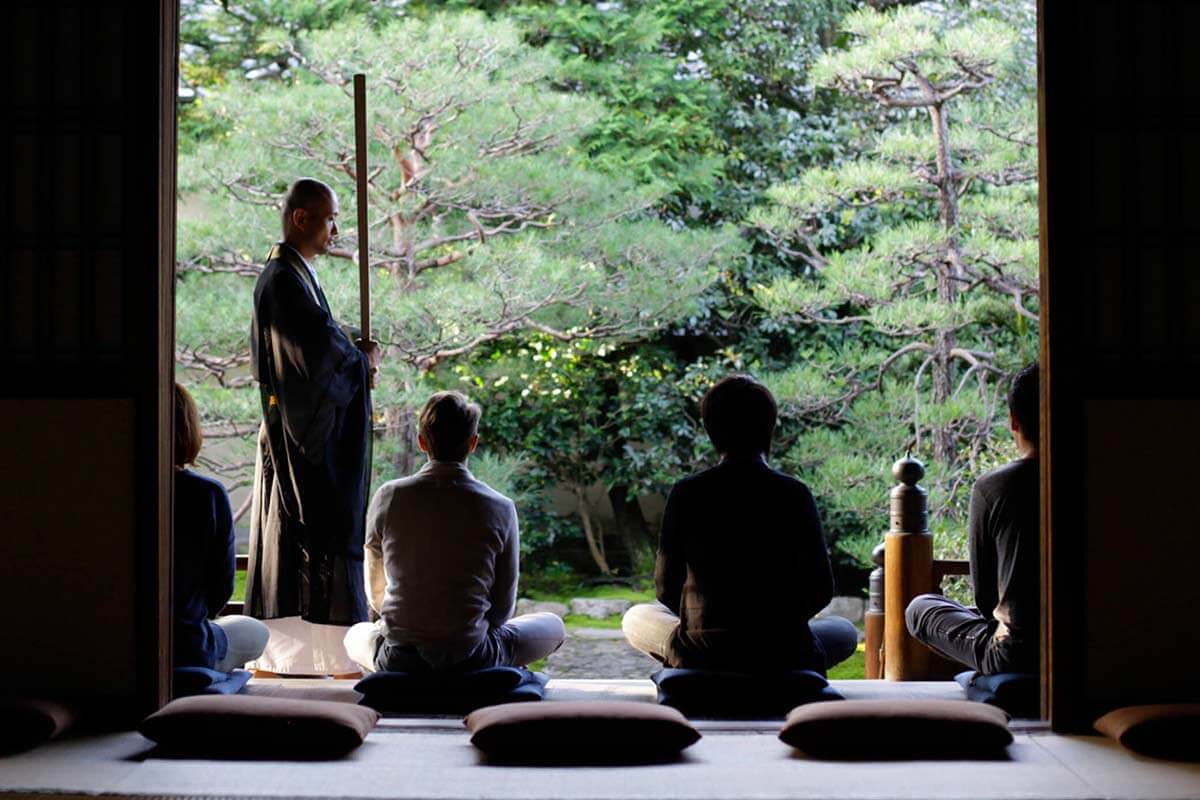 2022.1.3(月)
〜2022.1.31(月)
Guest only
Off-site Activity
Entry fee:

2,000 yen (tax included)

place:

開催場所:建仁寺 塔頭 両足院
※現地集合 (現地までの送迎・アテンドはございません)
GOOD NATURE HOTEL KYOTO For those staying at HOTEL KYOTO, we are introducing a zazen experience at a quiet and beautiful Zen temple, which is usually closed.
~ Message from a monk at Ryoshoin ~
What kind of image do you have of zazen? Perhaps many people come up with the phrase "become nothing". This phrase has an effect on me, trying to get my head empty, and trying to keep my feelings still.
Originally, it is to sit without such "aim" or "measure".
The essence of zazen is appropriate for the words "relax, untie, and let go."
We will tell you the knack of "relaxing" by sitting, the method of "unwinding" by weakening, and the freedom to "release" by leaving your consciousness to breathing.
Please experience zazen and feel the freedom from your busy everyday life.
■ Flow of zazen experience
Preparatory exercises → Explanation of zazen → Zazen → Holy talk (about 1 hour and 30 minutes)
* The following dates are not held at this time.
1月:16日 20日
* Please note that the schedule may change in a hurry.
* Please check the holding time as it varies from day to day.
■ Venue: Kenninji Temple Tower Head Ryosokuin (There is no transfer or attendance to the site)
■ Items to prepare:
We recommend that you prepare your own insect repellent, sweat towel and water in the summer, and a rug (a shawl or muffler is available) in the winter.
During zazen, you will basically be asked to remove accessories and watches with bare feet.
Also, before you start zazen, please turn off your mobile phone and enjoy the silence.
■ Clothing:
Zen sits like agura, so you should wear clothes that are suitable for it.
Ideally, you should wear loose clothing to prevent poor circulation and pain in your legs.
Avoid decorations on your back or around your neck as they may be damaged when you are on guard.
There are changing rooms for both men and women, so please make use of them.
■ご予約方法:空き状況によって前日19時までフロントにてお受けいたします