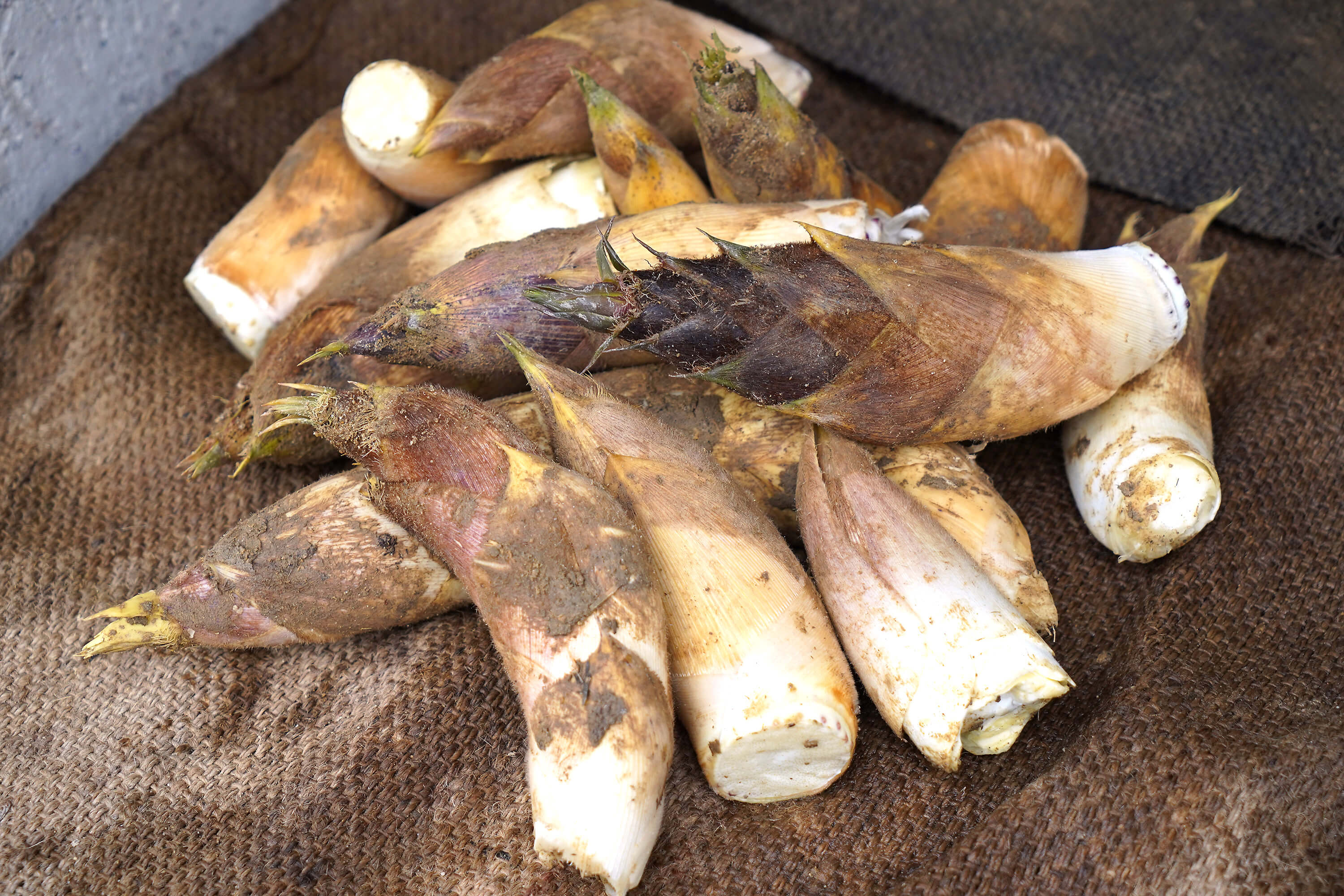 GOOD NATURE STATION 's entrance zone "MAENIWA" is dedicated to providing visitors with new news so that they can experience new purchases only here. I lined up the other day with this pure white-looking bamboo shoot. It was just picked that morning. This time, we would like to introduce the new efforts we are going to make together through the polite image of agriculture by Mr. Shoji Sugii, the producer of "Family Farm Kazamidori".
Bamboo forest carefully managed without pesticides
If you walk about 15 minutes to the east from Keihan Railway Ryukoku Omae Fukakusa Station, you will see a lush bamboo forest. There, Mr. Shoji Sugii, the representative of "Fumin," a welcoming farm, welcomed me. At Fugen, we grow all kinds of crops such as spring bamboo shoots, lemons, blueberries, tomatoes, paprikas, all without using pesticides. Among them, we are putting a lot of effort into the pure white bamboo shoots called "Shirako bamboo shoots." Because it is harvested before exposure to sunlight, it has a clear white color and a full shape.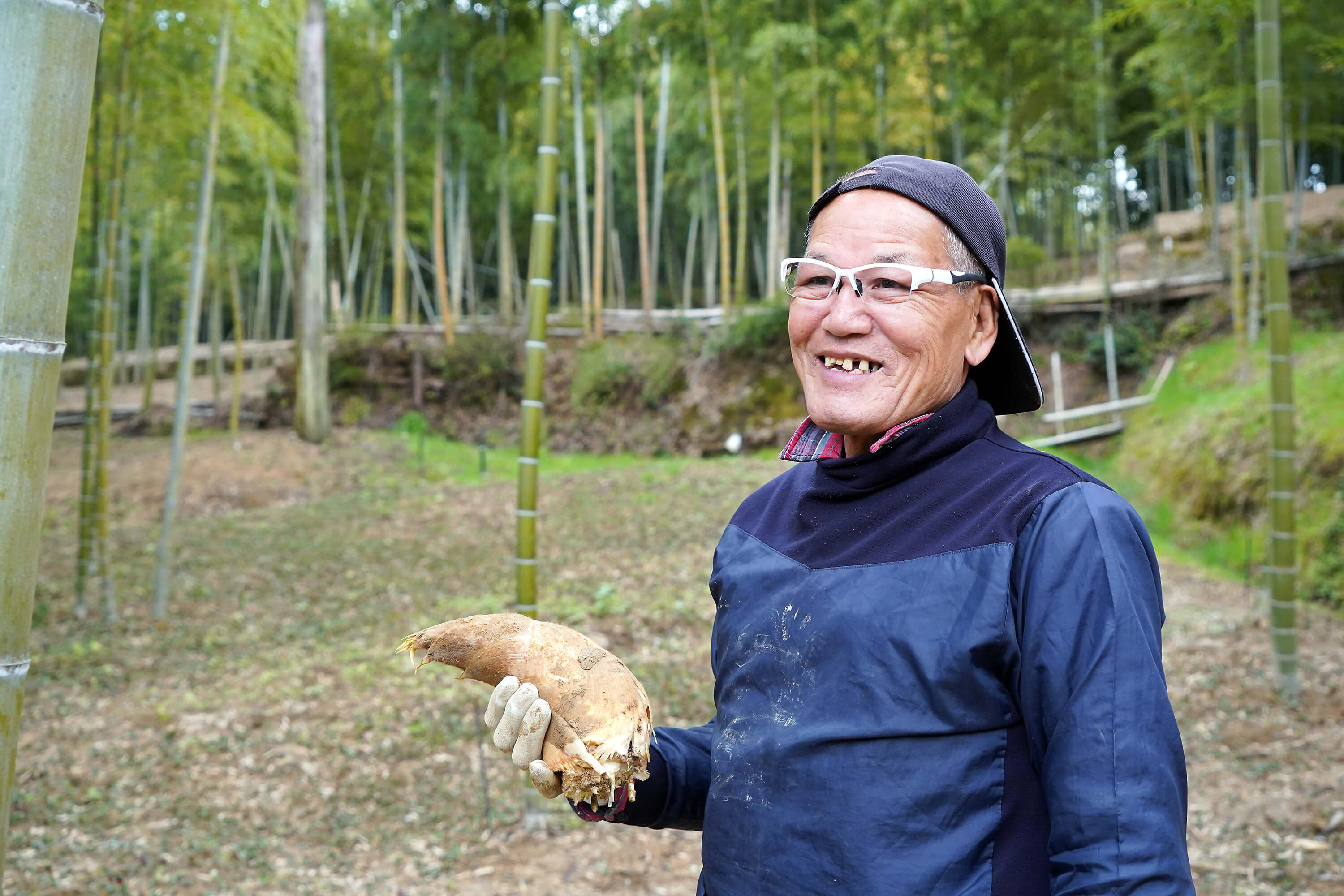 Mr. Sugii has been allergic to pesticides, so he has been particular about how to grow crops without pesticides in order to tackle agriculture safely and safely. Bamboo forests, where weeds are easy to grow and are difficult to manage, are carefully maintained using a mower without using any herbicides. When you step into the bamboo grove, you can feel a big difference from the surrounding bamboo grove. That is light. About 300 bamboos are growing without overlapping so that the sun's rays hit the ground evenly.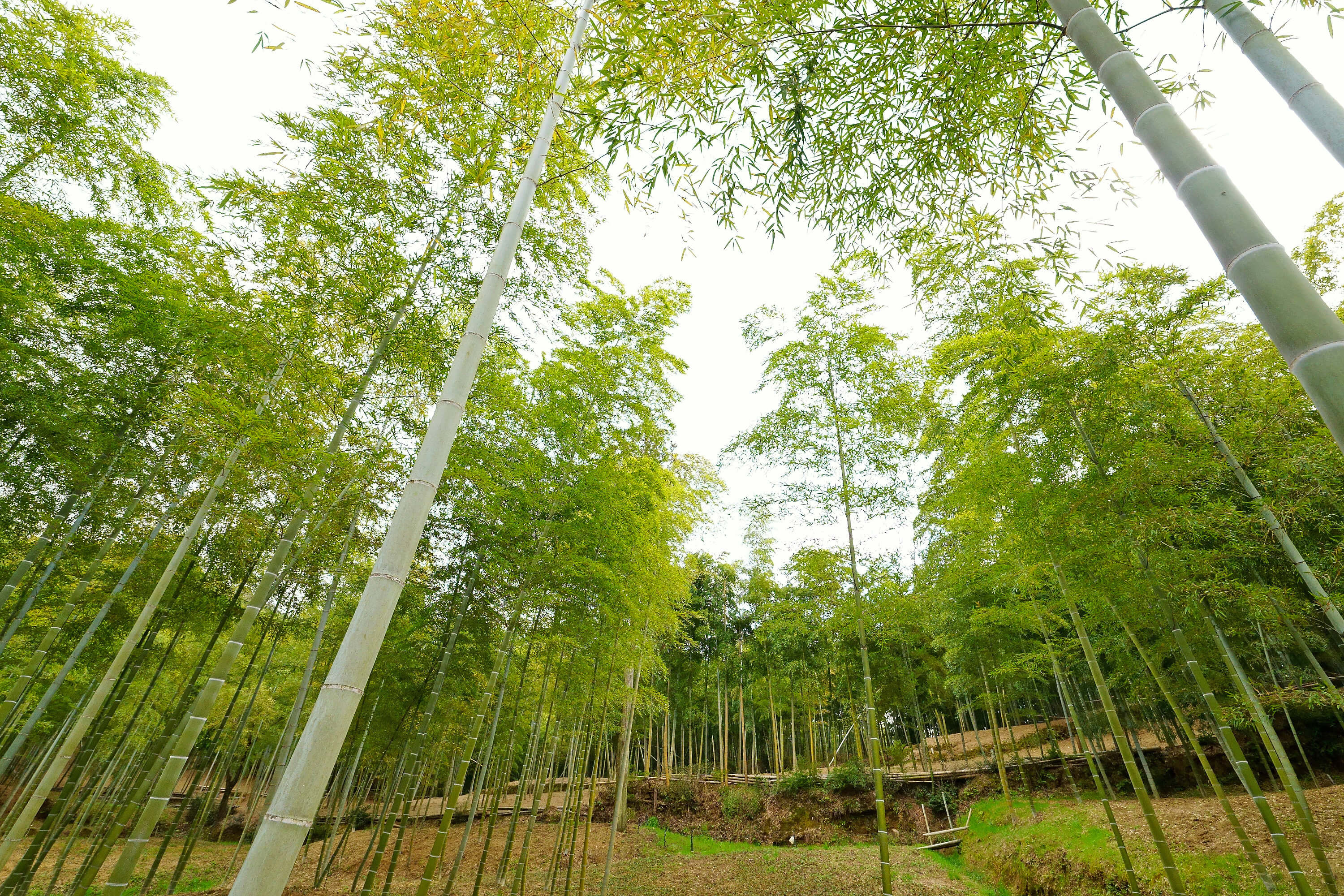 Bamboo that has grown to a certain length has its tips dropped so that it does not become too high and block the sunlight. A number is written on each bamboo, and after three years from this number, it will be felled, and only new bamboo within three years will always grow in the bamboo forest. By doing this, it is said that the bamboo shoots in the soil will be well nourished and that the taste will be uniform.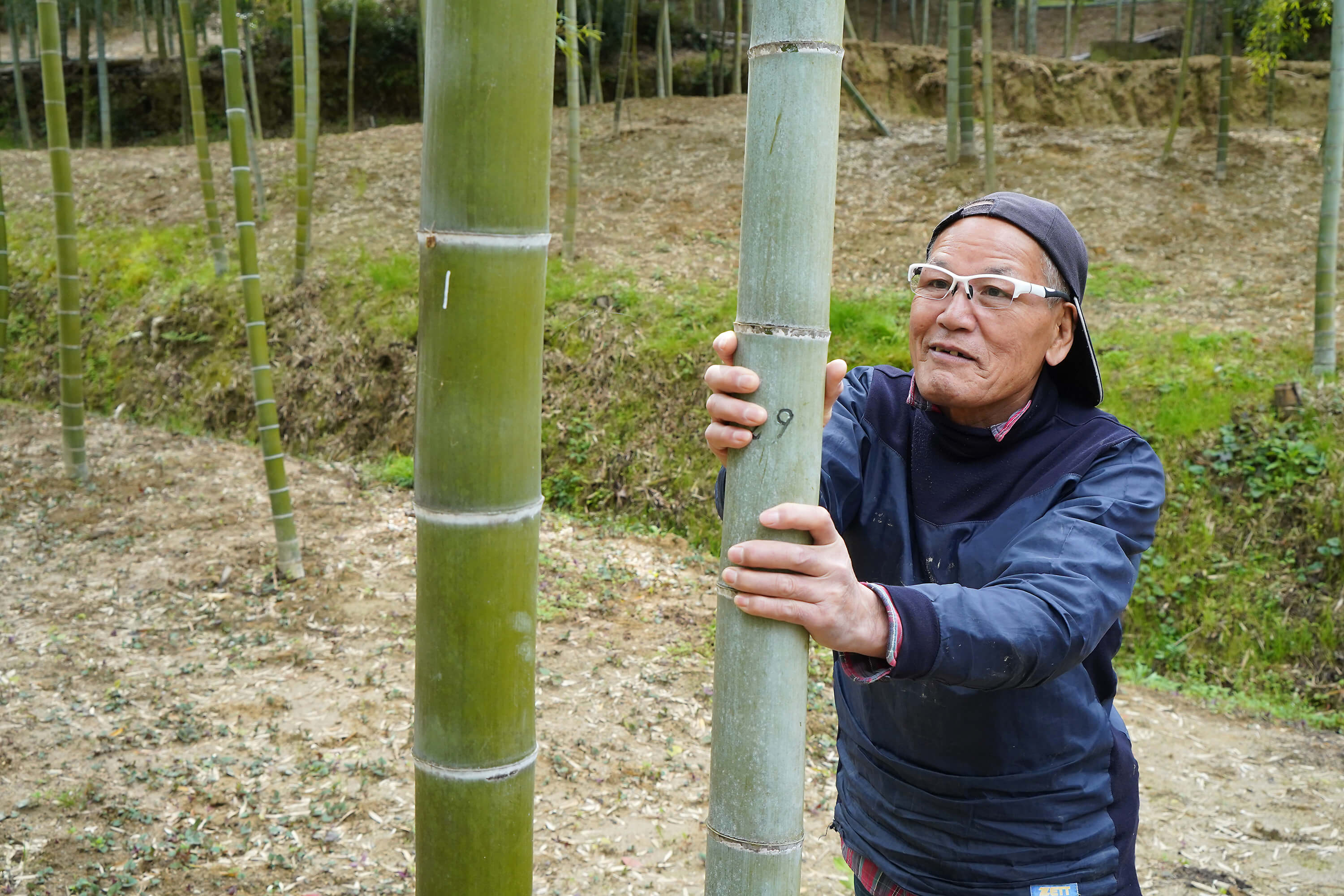 Harvest of Shirako bamboo shoots
We were shown the harvest of Shirako bamboo shoots. A normal bamboo shoot finds the tip of the ground and begins to dig, but the Shirako bamboo shoot digs before it appears on the surface. Put a star on the place where you can see the cracks, and use a special tool such as a hoe with a long blade called "Hori" to dig. You have to identify the direction in which the bamboo shoots are growing and carefully dig them so as not to damage them.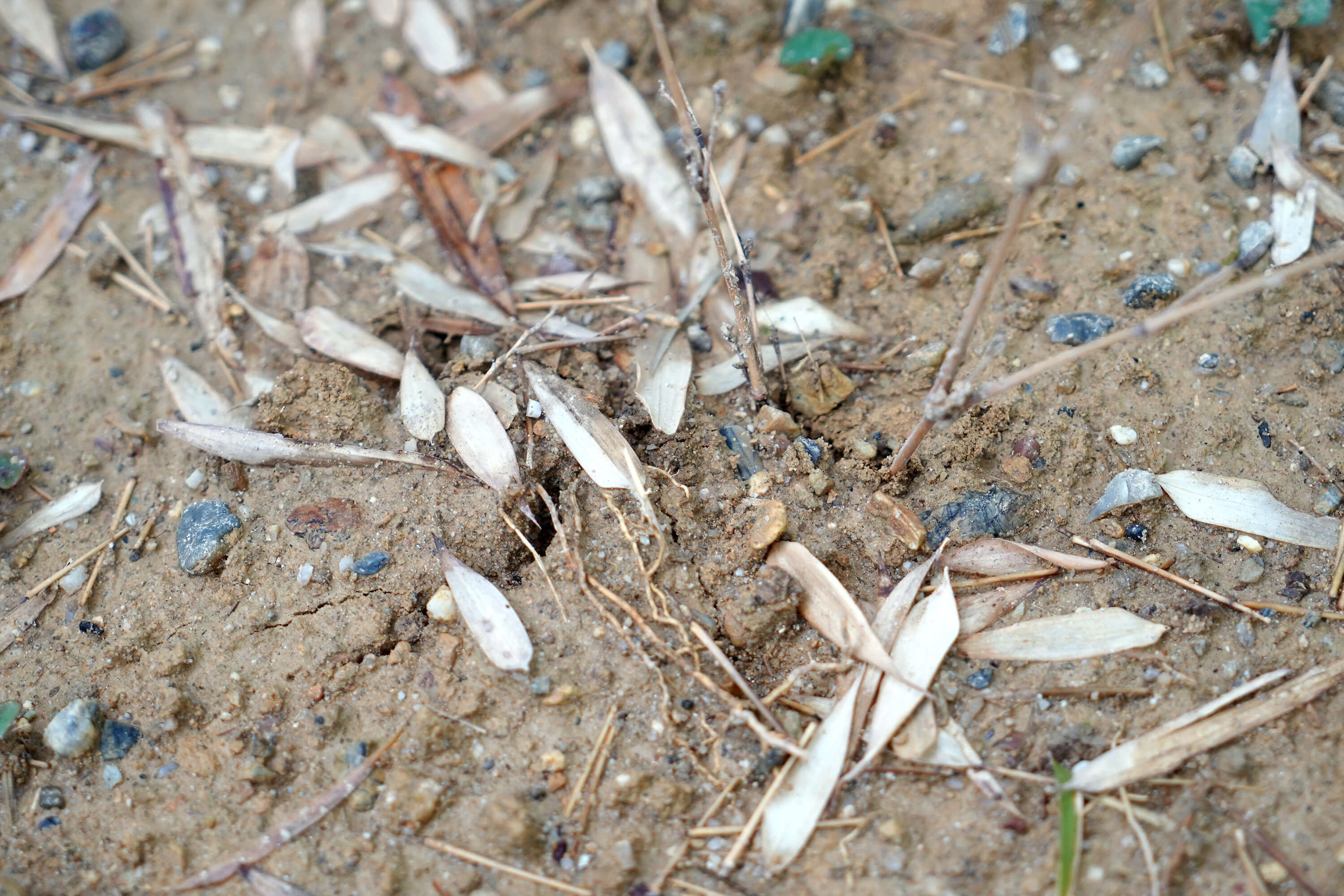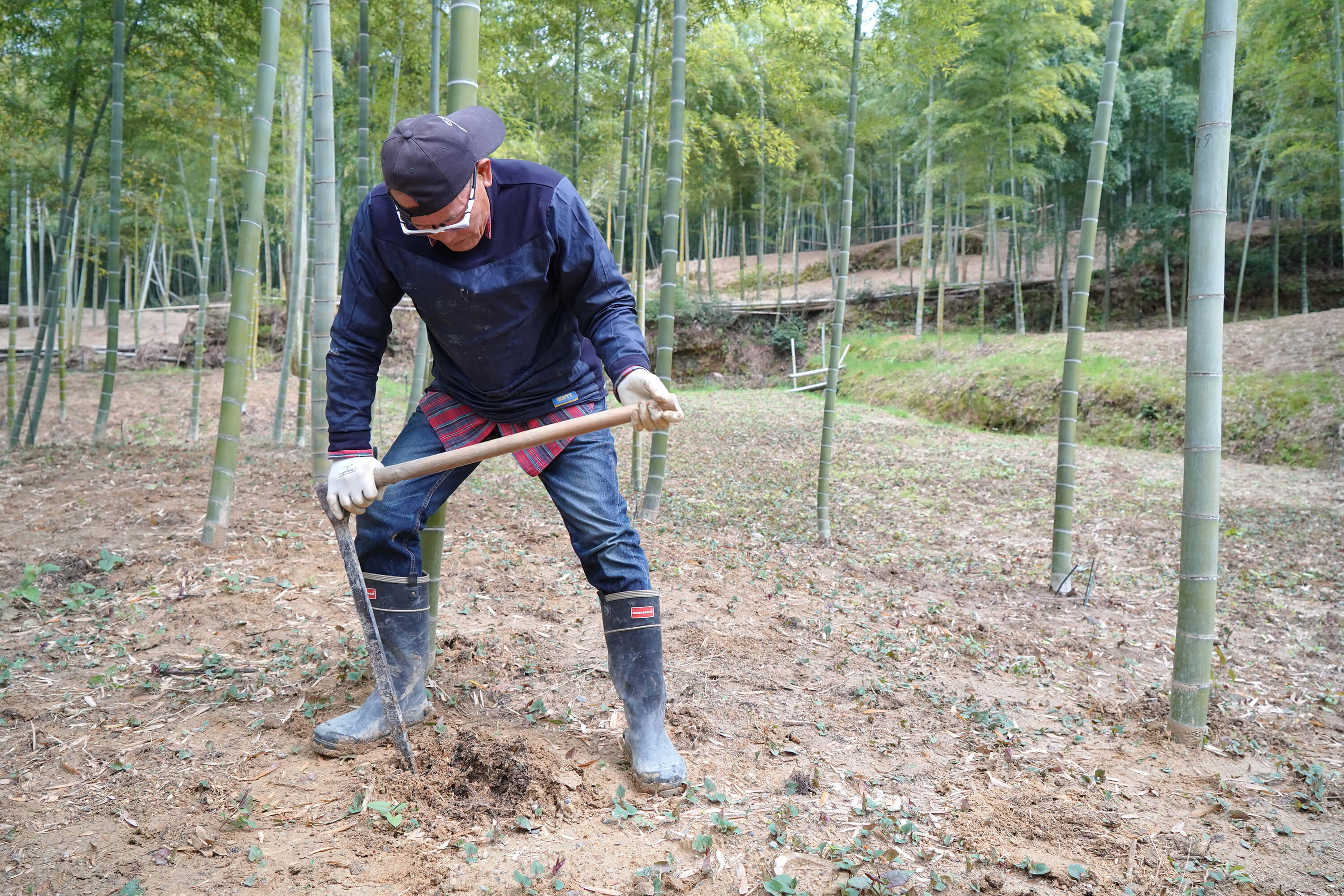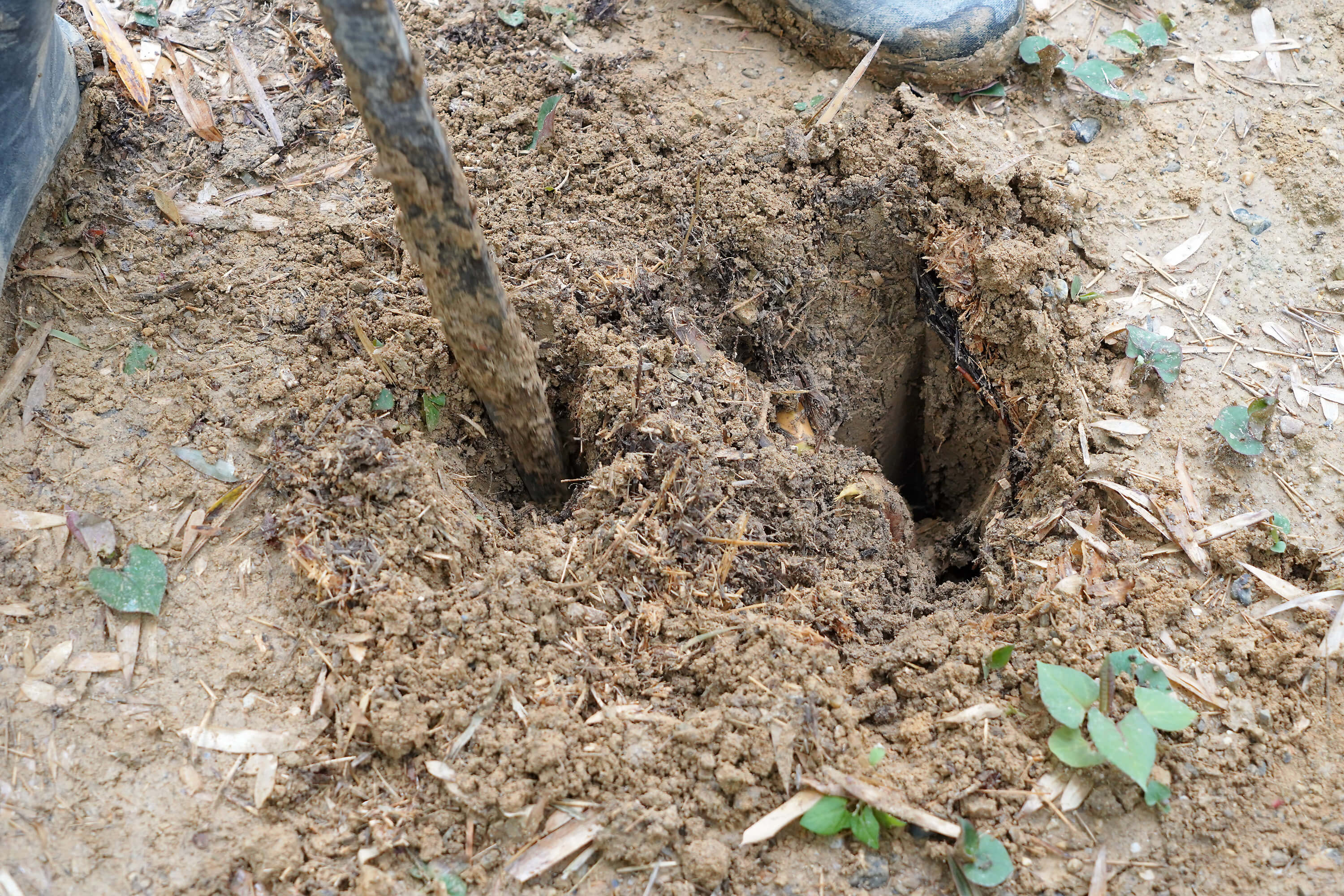 Sugii: "Bamboo shoots have a harsh taste when exposed to sunlight. However, since the Shirako bamboo shoots we grow are dug out before they are exposed to sunlight, there is little acridness and they are boiled and cut open with the bran. You don't have to do that either. "
If you take the bamboo shoots collected on the spot, the cut will be surprisingly white, and the water will spread sharply when you chew. I rarely feel acridness, and the fresh texture is like eating pears and radish rather than bamboo shoots. I am surprised by the taste that is completely different from the bamboo shoots I have eaten up until now.
For sustainable agriculture
Mr. Sugii makes various efforts in the way of agriculture itself. Bamboo felled for replacement is crushed with a special machine and reused as fertilizer chips. By spreading the chips on the soil, the nutrients and water that bamboo has will penetrate into the soil, and good bamboo shoots will grow. Mr. Sugii says that these efforts are not only for improving the quality and stable supply of crops, but also for those who want to engage in agriculture in the future.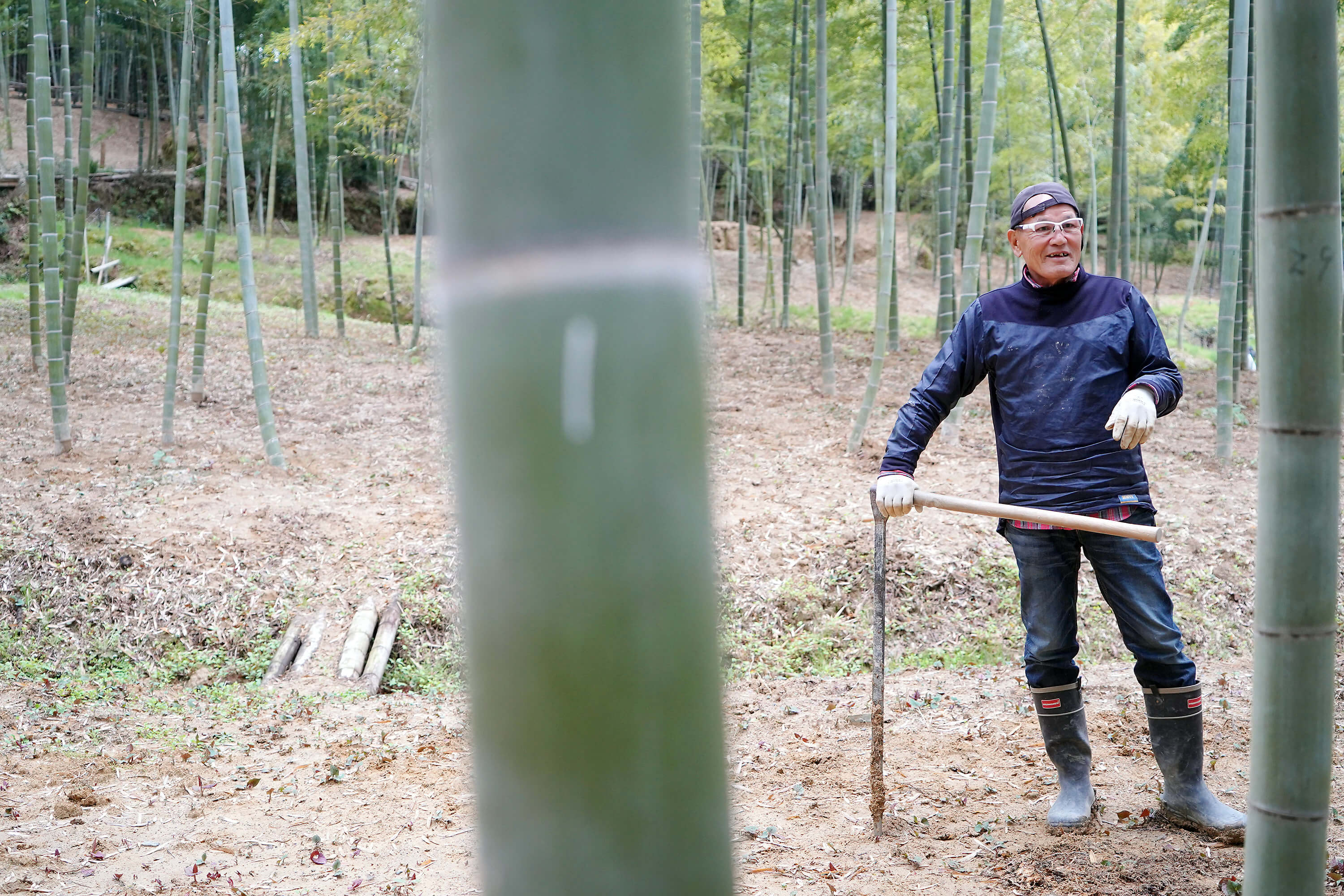 Sugii: "If you leave the growth of bamboo to nature, the yield and taste will vary. However, if it is properly structured in this way, I think it will be an agriculture that can be continued by young people. Rather than relying solely on this, we are engaged in a combined effort to grow crops that can be harvested throughout the year, to rent farms, and to let local residents enjoy agriculture as a familiar item. So I want to get rid of the image that income is unstable in agriculture and increase the number of people who are involved in agriculture. ''
Beautiful bamboo forest Activity
About two years ago, the connection between Mr. Sugii and GOOD NATURE STATION was born. The exchange started when Yoshiyuki Motoyama, manager of the store development department, consulted with Mr. Sugii to buy chips made by crushing bamboo. After a few visits, he says that he began to think that this place could be used for anything other than agriculture, after seeing beautiful bamboo grove that was maintained in every season.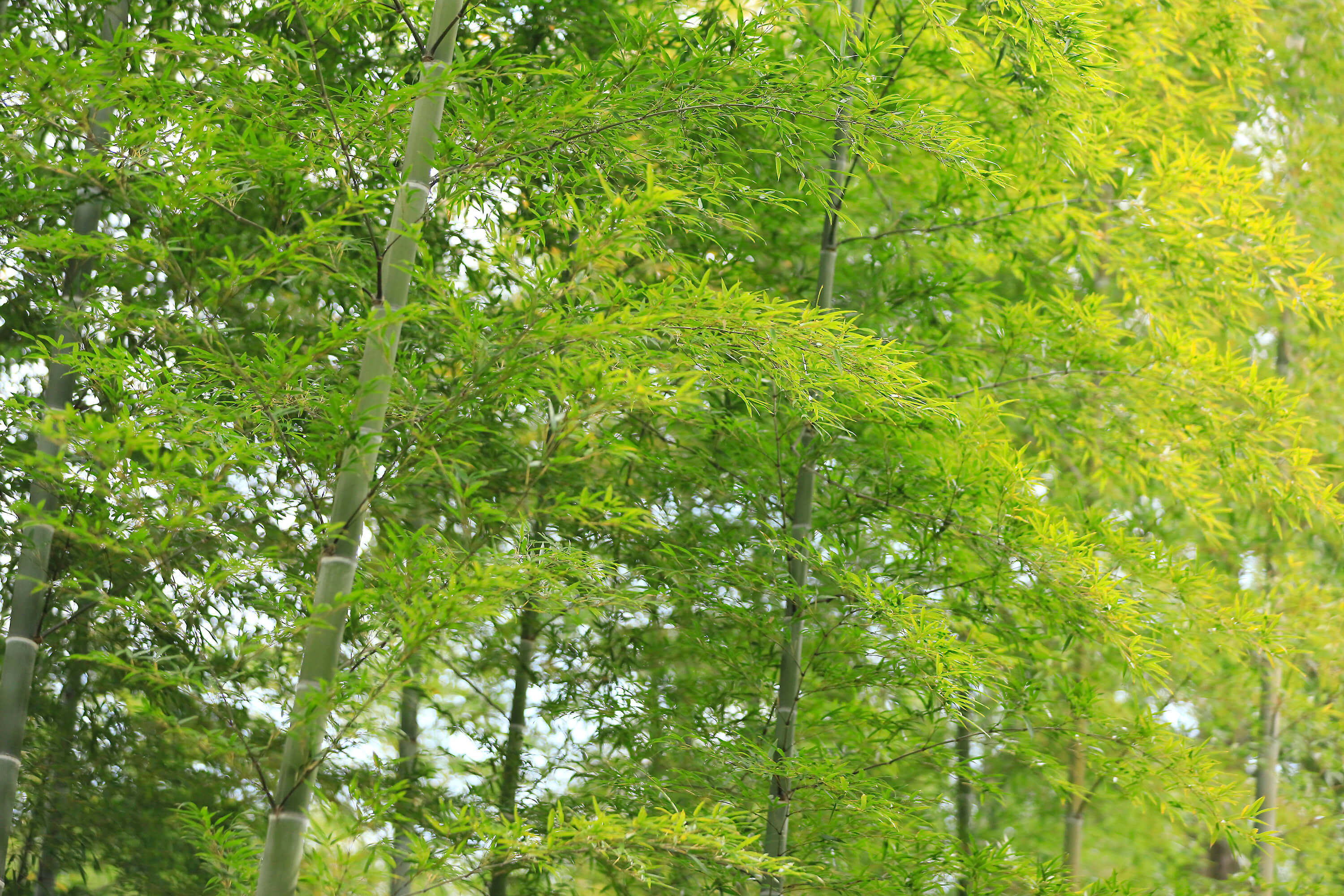 Motoyama: "The moment I entered the bamboo grove, I felt very comfortable. The sunbeams shining from between the bamboos and the birds' voices heard from a distance. So, in order for more people to experience it , I wanted to implement Activity to enjoy bamboo shoot harvesting and bamboo forest bathing. "
At GOOD MATURE STATION, we regularly hold GOOD MATURE ACTIVITY where we can visit producers and experience farming in nature. In the "Shirako Bamboo Bamboo Harvesting Experience" Activity that was held here, participants asked the producers to give a lecture directly while the participants dig into the bamboo shoots. We would like to encourage farmers involved in farming to experience the hardships and joys of the farmer's hands, as they experience the real harvesting practices that farmers actually do, not just as leisure activities.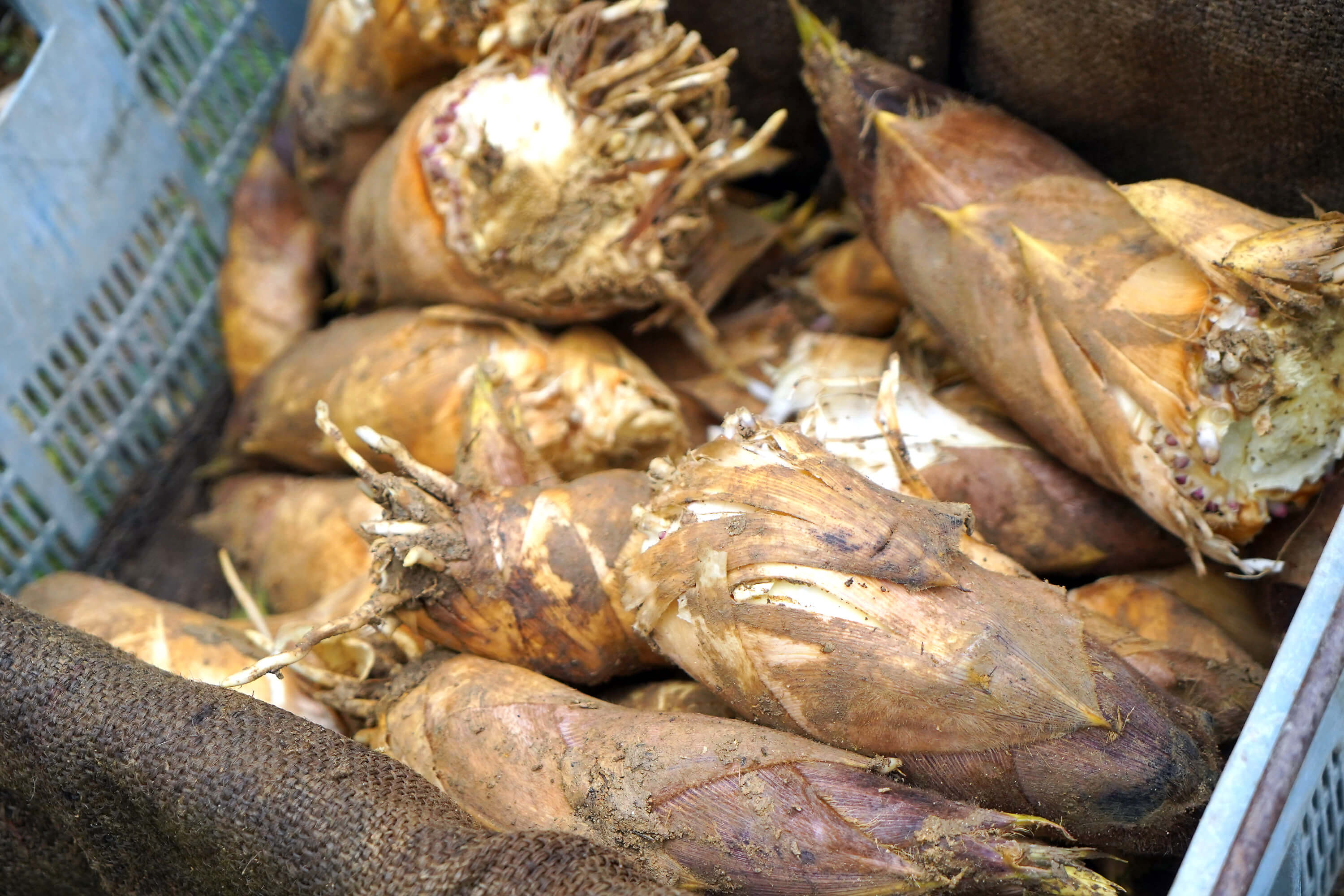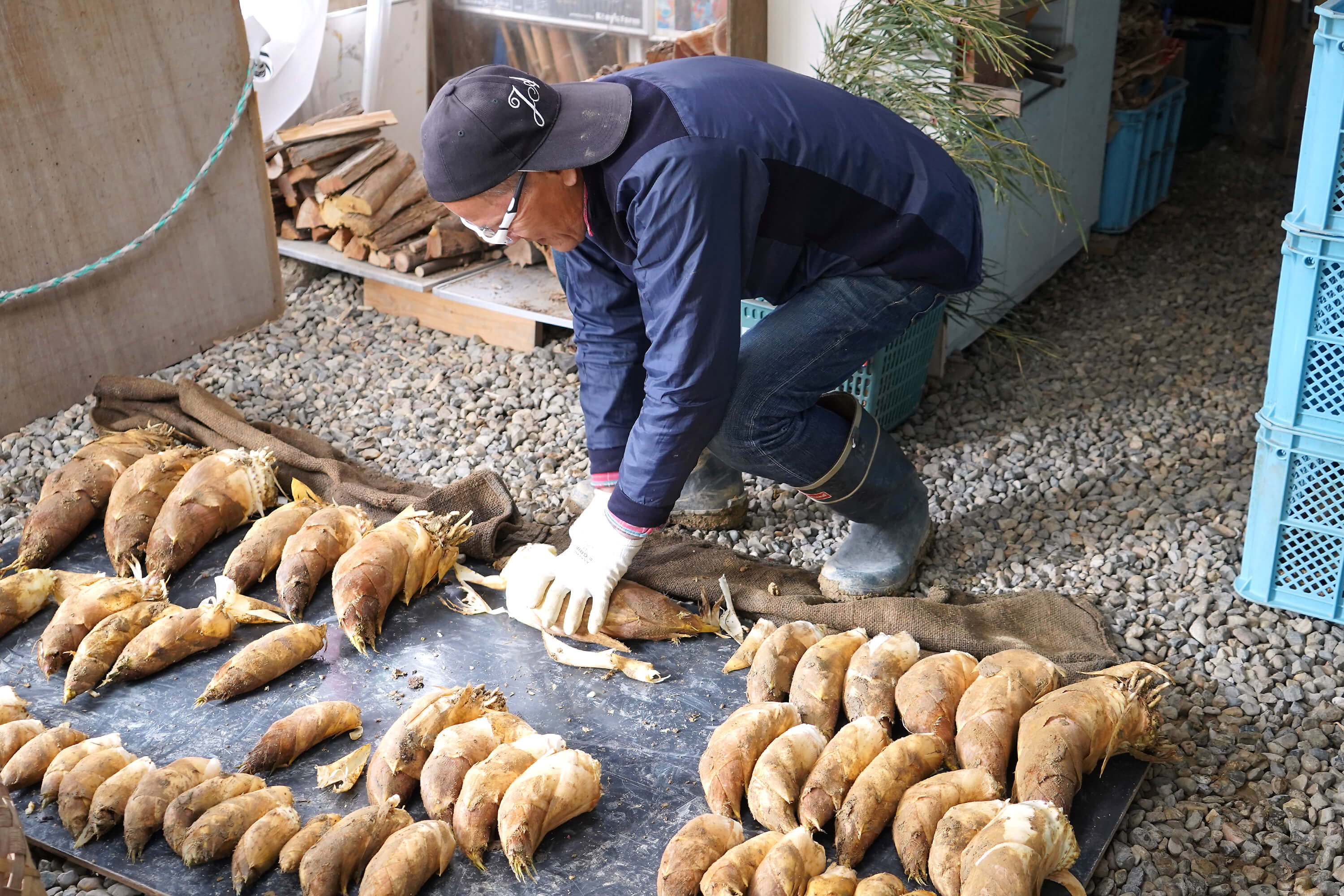 In addition, we are currently planning a picnic in the bamboo forest and Activity harvest organic lemons and strawberries. It is possible because it is an attractive Activity because it is a wind green that can harvest various crops all year round, and Mr. Sugii who accepts the idea flexibly is possible. When I listened, I heard the sound of a warbler. Then Mr. Sugii said, "That's the practice for the Uguisu kids to sing." Eventually, it will turn into a fine adult song. This kind of exchange is one of the pleasures of activity.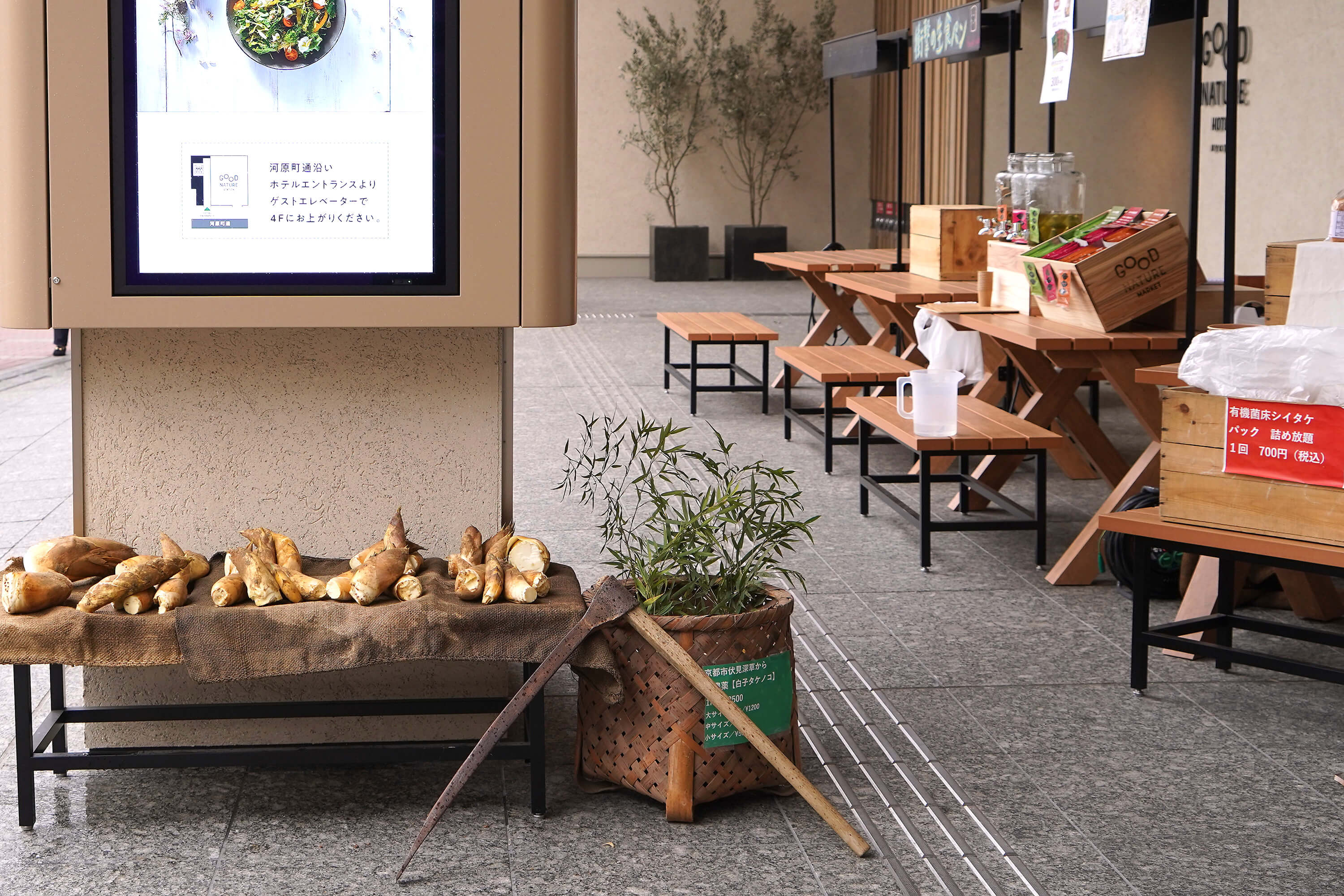 Motoyama: "If we can expand the income range of farmers by conducting Activity we can also provide crops at a lower price. Then, I think that organic = high until now. There is also a merit that even farmers who had an unstable income due to climate change and the amount of harvest can get a stable income.It will be used in restaurants and patisseries in the future. There is also a plan to grow vegetables and fruits that are important for freshness, and to ship those that are harvested in the morning. This can be done because it is close to us. I want to go. ''
One of the roles of GOOD MATURE STATION is not only to sell crops, but to disseminate the various charms of producers so that customers can enjoy them. We will continue to deliver to you in various forms such as sales and Activity MAENIWA.
GOOD NATURE JOURNAL editorial department